5 things you can try NOW to save up to $5000 during the Downturn
Broadband
00:00am
Apr 08, 2020
The COVID-19 crisis has thrown up plenty of relief for those doing it tough – plus some unexpected saving opportunities. So whether you're out of work or just keen to slash your budget, here are Joel Gibson's Top 5 COVID Savings Hacks.
There's no sugar-coating it! This is our life for the next few months. But as the saying goes, when life gives you lemons, make lemonade…
One thing we can do to help ourselves and our families is to take some control over our household budget right now.
This is the ideal time to do so, and not just because many of us have lost income. The crisis has also created some unexpected opportunities for saving that did not exist a month ago – such as mobile & NBN data bonuses, record-low home loan rates and car insurance savings.
Here are my Top 5 COVID-19 savings hacks to save up to $5,000 during the economic downturn, including:
✅ Up to $800 on Power Bills
✅ Up to $300 on NBN
✅ Up to $384 on Mobile
✅ Around $120 on Car Insurance
✅ Up to $3476 on a $500,000 Mortgage
POWER BILLS
The problem:
More time at home means higher energy bills. See the graph of my home's energy usage below. It's peaking because we're ALL here: mum, dad and the kids. It'll keep growing as things get colder and we start using the heater all day in mid-winter.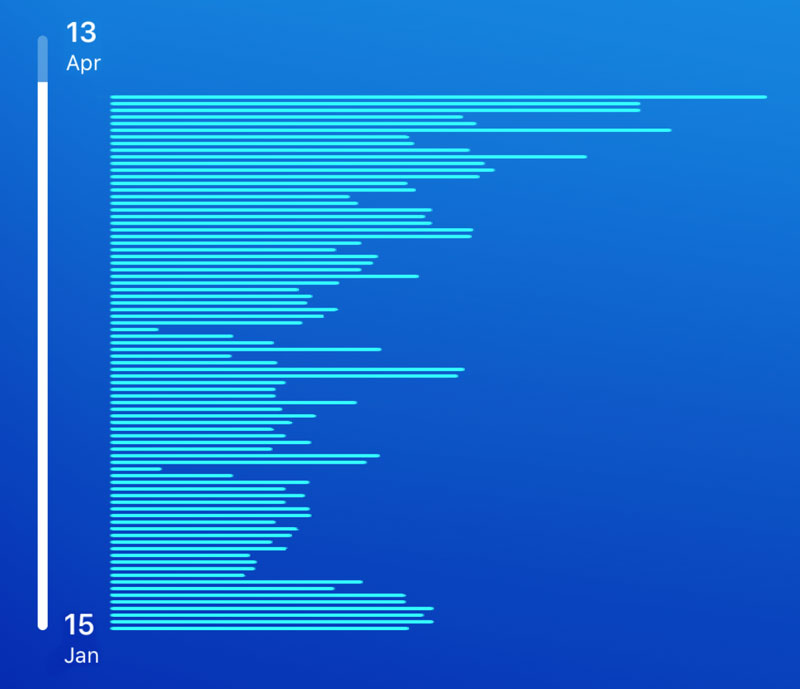 The solutions:
1. The biggest potential saving is from switching to one of the cheapest deals around. Get on a cheap deal NOW, before the winter heating period begins, and it's possible to save as much as $300+ per annum for some average-sized households in some parts of the country.
2. Make sure you're not wasting energy. Here are a few tricks to try:
Wash in cold water
Use the clothesline now that you're always home, instead of the dryer
Turn off some powerpoints when not in use – this 'vampire power' has been making up a huge 16% of my own electricity bill according to the report below from my retailer!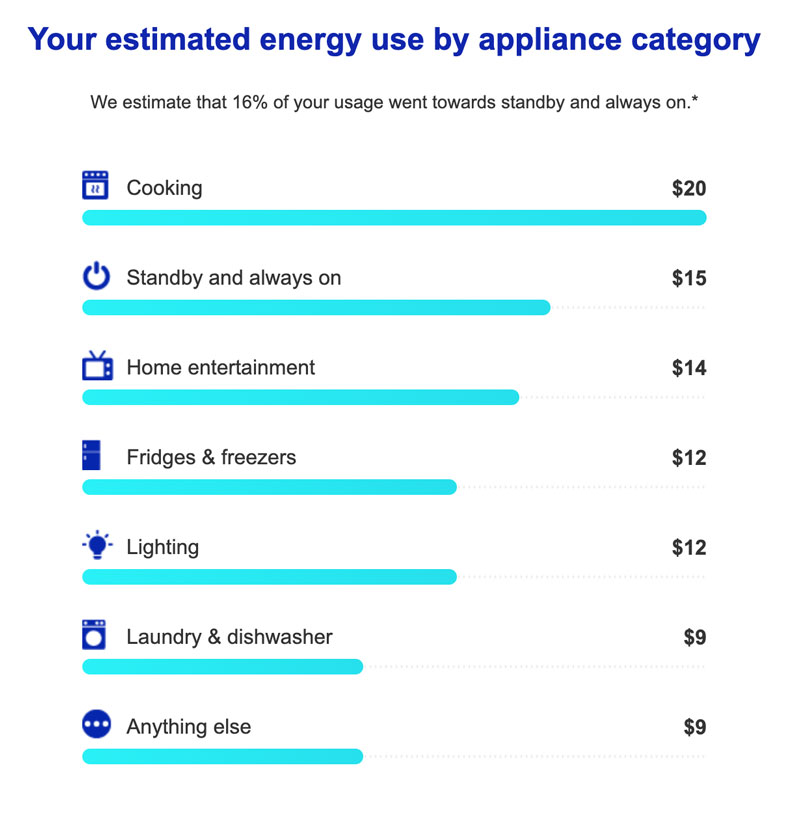 Turn off the beer fridge and it could save you another $250 a year.
Set your thermostat at 18-20 degrees celsius when heating your home or 20-22 when cooling (and avoid both if possible – they can take up 30% of your bill and every extra degree can add 10% to your bill)!
✅ POTENTIAL SAVING: Up to $800
NBN
The problem:
With all of us being told to #stayhome unless we have to go out, broadband usage is booming. (FUN FACT: Netflix and Stan have been asked to lower the resolution of their streaming shows to relieve pressure on the network.)
The solutions:
Most Australian households have unlimited data plans, but some of us will need more data or speed.
1. Check if your provider is boosting customers' data during the crisis. Telstra, Optus and others have upgraded everyone to unlimited data this month.
2. Need more data or speed? You can usually go up a tier for about $10-$20, often just on a month-to-month basis, so check out your provider's page at Whistleout, Australia's leading telco comparison website, to see the other options and current deals.
3. Need to save? Shop around! On the most popular 'Standard Plus' speed (50Mbps), prices range from $60 a month on introductory deals right up to $90 a month from Telstra.
✅ POTENTIAL SAVING: Up to $300 over the coming year
MOBILE
The problem:
Mobile traffic is up more than 50% since the crisis as we call government services and businesses to ask for help, or call friends and family to stay connected. BUT busting your data cap can be very expensive, so this one is important.
The solutions:
1. Check for bonus data offers from your provider. We've seen up to 25GB on offer, but sometimes you MUST ACTIVATE IT or you'll miss out.
2. Need to save? Check out some of the amazing bonus data deals now popping up for new customers:
Amaysim is now offering a NEW deal for new customers with 55GB data for $15 in the first month and $40 each month after that.
Circles.Life has some big NEW data deals for people who need extra in the coming months. There's 40GB for $28 for the next 6 months, or 100GB @ $38 a month.
Prefer to stay with the big guys? See if you can UPGRADE to the best current Telstra deals, best current Optus deals, and best current Vodafone deals.
✅ POTENTIAL SAVING: Up to $384 (the difference between Telstra $70 plan with 100GB to Circles.Life $38 plan with 100GB)
CAR INSURANCE
The problem:
If your car is sitting in the driveway most of the week, like mine, you might be saving on petrol but you're still paying full price for registration and insurance.
The solution:
Drive less, pay less. Many insurers offer an option where you pay less if you limit the distances you drive. It might not have been right for you when you last renewed, but it could be now.
You can change your policy ANYTIME and they'll REFUND you some of your premium if it goes down. So contact your insurer, ask what difference it would make to your price, and see if you can save.
I got two quotes from the same provider this week on a new Mazda CX-5, but I entered two different mileages to check the premium difference.
Up to 5,000km/year = $941
Up to 25,000km/year = $1070
Difference = $129 or 12%
✅ POTENTIAL SAVING: Around $120 (If you have a higher premium or you used to drive a lot, it will be bigger.)
MORTGAGE
The problem:
This is the Big Kahuna of household bills. If you're paying a mortgage, it will now be very tough if you've lost work. Hundreds of thousands have already applied to defer repayments. But if you're still employed, rates have never been lower.
The solutions:
1. Need a break from payments? This will NOT avoid interest over the coming months, which continues to accrue on your loan, but if you're desperate for relief then most banks will now allow you to defer repayments for up to 6 months.
2. Need to save? Banks have responded to the crisis with their LOWEST interest rates ever, which creates an opportunity for those who can still pay. Some are also offering $1000 or more in cashback to switchers.
Example: let's say you're paying 3.5% p.a. with NAB on an average sized $500,000 loan. They're now offering fixed rates for 2 or 3 years as low as 2.29% p.a. Switch to that and you'd save $3476 in the coming year, according to ASIC's Moneysmart calculator.
✅ POTENTIAL SAVING: Up to $3476 in the coming year
💲 TOTAL POTENTIAL SAVING FROM THESE 5 BILLS: UP TO $5086
Any information is general advice, it does not take into account your individual circumstances, objectives, financial situation or needs. One Big Switch earns a fee for each customer that takes up a current offer. As a result of services provided by us, WhistleOut Pty Ltd may pay One Big Switch a portion of any fees that they receive from their providers.